BMB Stew – Beef Mushroom and Beans
Posted by Jia
Mar 30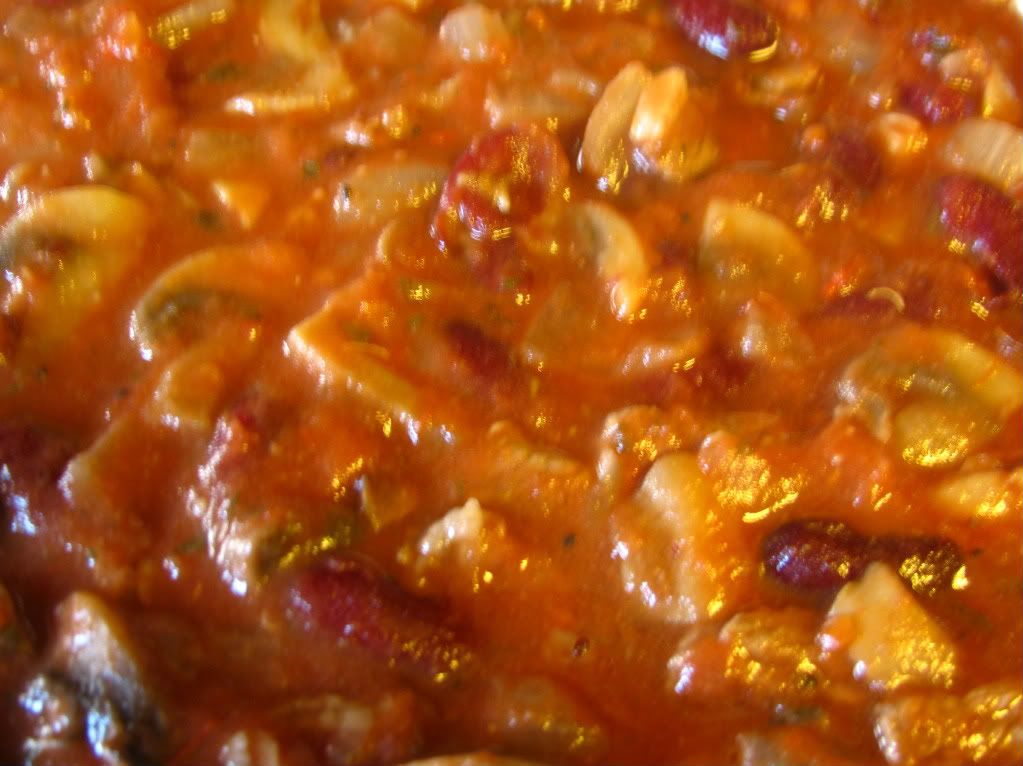 This is one of my make up as I go along kind of dishes that usually winds up with me fretting over whether or not it will be any good. Sometimes these kinds of meals go very very wrong, more often I am left with a meal that is just "okay", and every so often I come up with something I just know we'll be eating over and over again.
This recipe falls into that last category. The meat is tender and succulent, the beans are so rich and flavorful, the sauce is simply so good I am beyond words to explain how very delicious it is. The meat is the most expensive part of this dish (it cost me about $9) but that can easily be trimmed a bit by cutting back (a bit) on the amount of meat in the dish, by waiting for a sale, or by playing around with different cut and types of meat as your budget allows.
It was enjoyed by all five of us and very filling.
12 servings
Ingredients:
1 40.5 oz can red kidney beans, rinsed and drained
1 large Vidalia onion, chopped (about 2 cups)
5 cloves garlic, sliced lengthwise into 1/4′s
1.5 Tbsp olive oil
1/4 tsp salt, divided
18 oz white button mushrooms, sliced very thin
1.5 lb sirloin strip steak, cut into thin strips
1 28 oz can crushed tomatoes
1 14.5 oz can chicken broth (fat free low sodium)
2 tsp cilantro
1 tsp black pepper
1/2 tsp thyme
Directions:
Take two half-size disposable aluminum pans* and line the bottom of each with half of the beans.
Saute onions and in oil until soft and translucent. Add garlic and saute for another 5 minutes or so until garlic is beginning to soften.
Add half of the mushrooms, sprinkling with 1/8 tsp salt, and cook until reduced in volume by about a third.
Add remaining mushrooms, sprinkling with remaining salt, and cook until reduced in volume by a third.
Add meat, and all seasonings, and cook until meat is "seared" on outside, but not fully cooked through.
Remove meat mixture from pan (leaving juices behind) with a slotted spoon and divide between the two pans, spreading on top of the beans.
Add crushed tomatoes and broth to pan and heat through, stirring well to fully incorporate all of the pan juices.
Ladle over meat mixture, spreading to fully cover.
Cover with tin foil and bake at 350 degrees for 45 minutes.
The secret to this dish is in the layering. The beef drippings (and all of those spices) get soaked into the beans. The tomato sauce layer keeps the beef from getting dry and chewy.
Serving:
Meant to be served over our corn and pea studded garlic rice.
It would be equally delicious over plain rice, egg noodles, or even baked potatoes.
Accolan announced upon his first taste test that he would happily eat it just as it is with a bowl and spoon.  In this instance I bet a slice of whole wheat challah bread would be a wonderful accompaniment.
It would also be delicious I am sure with our cheesy corn pancakes, for those who calories are less of a concern.
Nutritional Information:
Calories 259.9
Total Fat 12.6 g
Saturated Fat 4.5 g
Polyunsaturated Fat 0.8 g
Monounsaturated Fat 5.8 g
Cholesterol 38.6 mg
Total Carbohydrate 19.4 g
Dietary Fiber 7.0 g
Sugars 2.0 g
Protein 17.6 g
estimate via Recipe calculator via Sparkpeople.com

Yes yes I know the fat content in this dish is less than stellar, but the saturated fat content is low, it is high in protein and rich in fiber. Sometimes its okay to indulge.
Enjoy!
Jia
* I wash and reuse disposable pans a few times and then put them into the recycling bin. I use them because they are a great way for me to store food in the fridge easily that doesn't always involve putting those meals into plastic storage containers.