Chickpea Black Bean Salad
Posted by Jia
Mar 28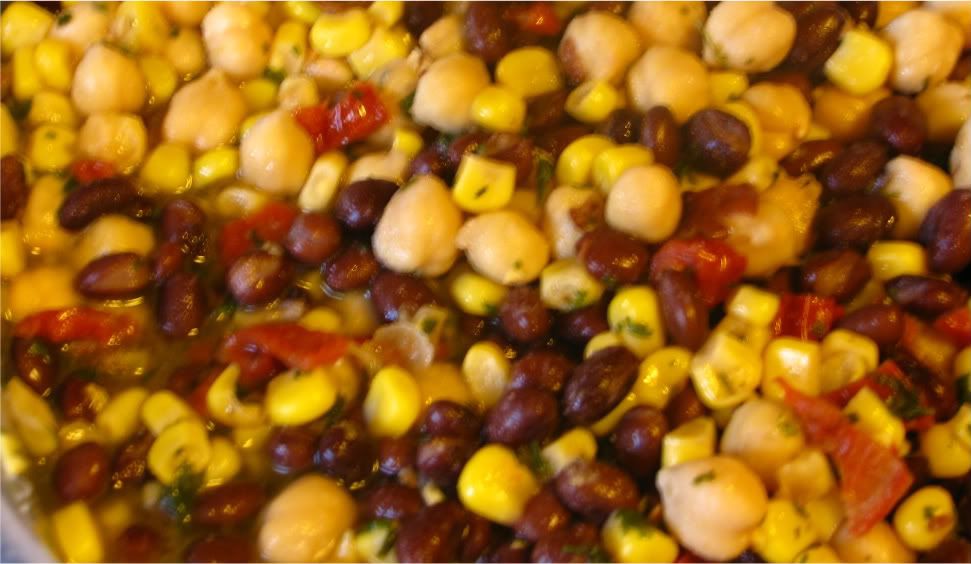 This came about as a variation of a chickpea salad we fell in love with last summer.  I wanted something that didn't have the fresh ingredients so that it would keep a little longer in the 'fridge and handle sitting in my lunch-bag a little better.  I also wanted something that was really high in protein so I would be satisfied with less, and not risk a blood sugar dip after eating it.  I think we have a winner.
10 large servings
Ingredients:
1 31 oz can chickpeas, rinsed and drained
1 15 oz can of black beans, rinsed and drained
1 11 oz can corn, drained
6 oil packed sun-dried tomatoes, cut into ribbons
1 1/2 cups red wine vinegar
1/4 cup extra virgin olive oil
1 Tbsp granulated garlic
1 Tbsp dried parsley
2 tsp dried cilantro
1 tsp black pepper
1/2 tsp salt
1.4 tsp mustard powder
Directions:
Place beans and born in a large bowl.
Using a balloon whisk, in a second bowl mix oil, vinegar, and seasonings. Blend well, until fully emulsified.
Pour dressing over bean mixture and stir well to combine.
Add sun dried tomatoes, and mix well to incorporate.
Serving:
This is best made at least several hours, if not the day before you plan to serve it.
It is a wonderful side dish for traditional grilled fare (hamburgers, hot dogs, etc) or with empanadas. But, it works equally well as a light nosh!
Nutritional Information:

Calories 228.9
Total Fat 6.8 g
Saturated Fat 0.9 g
Polyunsaturated Fat 1.1 g
Monounsaturated Fat 4.3 g
Cholesterol 0.0 mg
Total Carbohydrate 35.6 g
Dietary Fiber 7.9 g
Sugars 2.1 g
Protein 8.6 g

estimate via Recipe calculator via Sparkpeople.com

bear in mind that unless you are sopping up every last drop of dressing much of the fat is left behind in your bowl
If you stock up on your canned goods during sales (especially loss leader type) and at wholesale stores like Sam's Club this is a really cheap dish to make.  Not only is it great to have on hand for your own family, but it is so pretty that it makes a lovely dish to bring to a picnic, party, or potluck.
Enjoy!
Jia
This recipe was shared at Monday Mania at Healthy Home Economist, Mouthwatering Monday at A Southern Fairytale, Homemaker Monday over at Homemaking Haven, Made by You Monday over at Skip to my Lou, Motivate Me Monday over at Keeping it Simple, This Weeks Cravings at Mom's Crazy Cooking, Hearth And Soul Hop at A Moderate Life, Tuesdays At The Table at All Of The Small Stuff, Tasty Tuesdays at 33 Shades Of Green, Tuesday Night Supper Club at Fudge Ripple, Tasty Tuesday at Balancing Beauty And Bedlam
Update 3/29: Sephoni ate a bowl of this for dinner tonight.  To make a little more of a complete meal for her I added some diced cheddar cheese and a whole tomato to her bowl.  Mixed it up into the bean salad and she ate it up happily.  As tonight was a Taekwondo night I was thrilled to give her something fast and healthy to eat.