I'm Going Crackers
Posted by Jia
Mar 12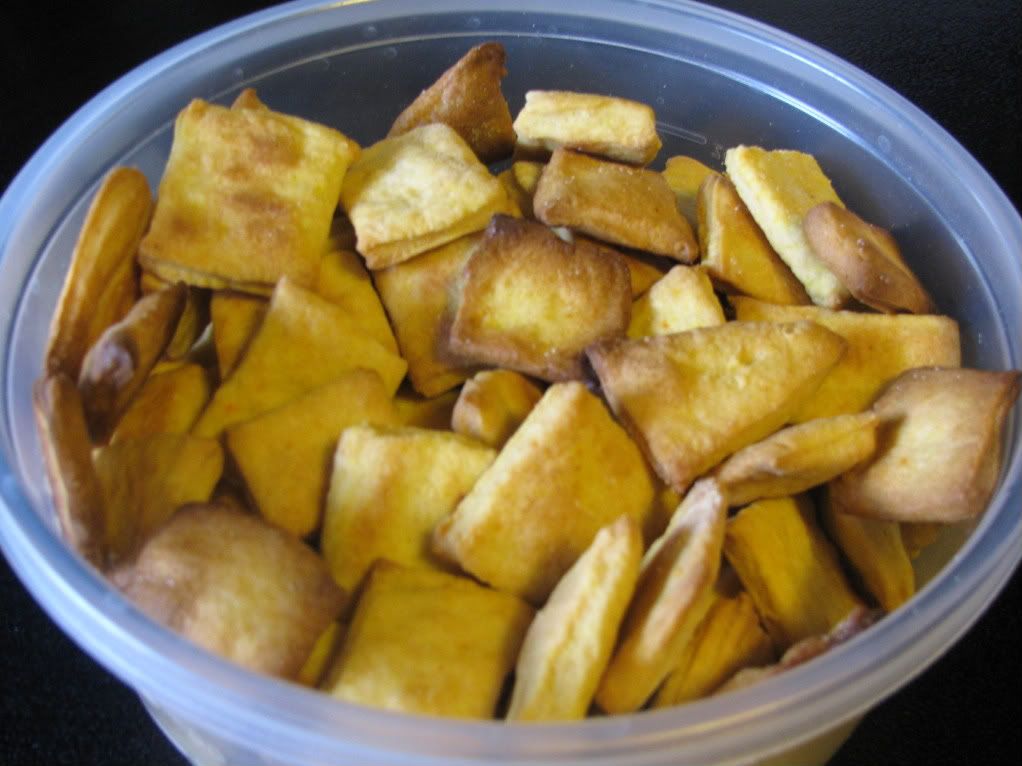 Part of creating a simpler more frugal lifestyle (as far as Accolan and I are concerned) is all about sustainability. Making do and doing without are a big part of it. But also, it is about learning how to make more and more of the food we eat ourselves, rather than buying it at the store.
Since this blog was born last June, I have started making our own marinades, BBQ sauce, and even chocolate syrup from scratch. I've played around with vegan cupcakes and made more Indian and Thai food that you can shake a stick at.
Yesterday, I made something that I have never attempted before – homemade crackers. The recipe I followed was for homemade wheat thins that I found on Two Peas and Their Pod. Now, I had trouble getting mine to be as thin as the recipe indicated they should be and, as a result, they took longer to bake. At first I was disappointed (and my father found that fact complaint worthy himself), but, the more I eat them the more I like them just the way they are.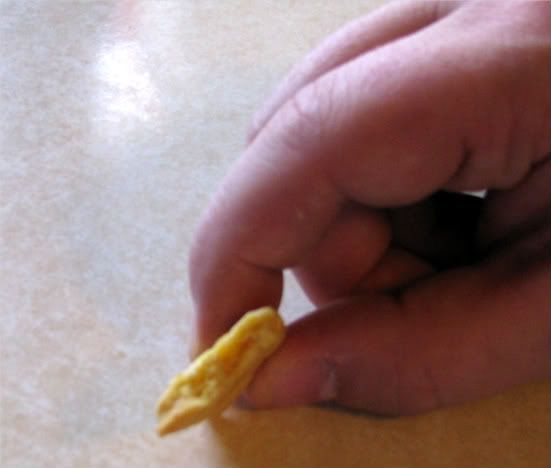 Just look at that flaky goodness!!
16 servings, a generous handful each
Ingredients:
3 cups all-purpose flour
3 Tbsp sugar
1 tsp salt, plus extra for sprinkling
1/2 tsp paprika
1/2 tsp turmeric
8 Tbsp unsalted butter (1 stick), cut into small pieces
1/2 cup water (more or less)
1/2 tsp vanilla
Directions:
Line baking sheet/s with parchment paper. Preheat oven to 400 degrees.
Combine water and vanilla and set aside.
Whisk dry ingredients together until well blended.
Using a pastry blade, cut butter into flour mixture until well incorporated.
Add vanilla-water a little at a time until you achieve a smooth dough.
Lightly flour your working surface.
Working with 1/8 to 1/4 of the dough at a time (keeping the balance covered with a towel to prevent drying out) roll out to about a 1/8″ thickness. Be sure to turn and flip the dough as necessary to prevent sticking and to achieve an even thickness.
Cut into squares and place on prepared cookie sheets. Sprinkle with salt.
Bake for 12 – 15 minutes or until golden-brown. Remove to a large platter (or another empty cookie sheet) and spread out to allow to cool (as they cool they will get crunchier) before moving to your storage container.
Serving:
You can eat them just as they are as a lovely snack, maybe topped with a paper thin slice of cheese.
You can use them to fill out a light lunch consisting of tuna (or chicken or shrimp or egg) salad and raw veggies.
You can serve them on the side of a bowl of soup (like our Beef Lentil or our White Bean Roasted Garlic) instead of a slice of bread.
Nutritional Information:

Calories 145.4
Total Fat 6.0 g
Saturated Fat 3.6 g
Polyunsaturated Fat 0.3 g
Monounsaturated Fat 1.7 g
Cholesterol 15.5 mg
Total Carbohydrate 20.3 g
Dietary Fiber 0.6 g
Sugars 2.4 g
Protein 2.5 g

estimate via Recipe calculator via Sparkpeople.com
Of course, with a whole stick of butter in the recipe, it's no surprise that these do not exactly fit in to a healthy eating low-fat regimen. But, the next time I make them I will use whole wheat flour (which was originally called for and I didn't have on hand) and I will be cutting back the butter (I am assuming increasing the water to compensate) to hopefully come up with something that is more in line with our weight loss goals.
Enjoy!
Jia