White Bean Roasted Garlic Soup
Posted by Jia
Mar 11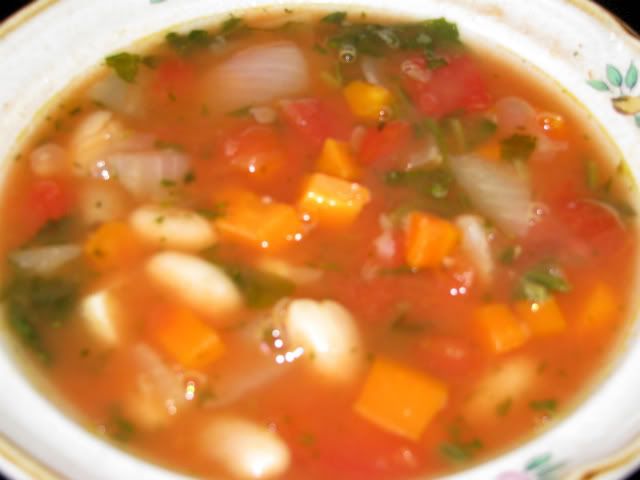 With the goal of using this weekend to gear up for Accolan & I to once again try to lose weight and regain our health, a big part of that is what I choose to prepare in this weekend's edition of my once a week cooking. While I had hoped to give up the practice, so that I could achieve more in the way of rest and time to tend to other necessary tasks, so far I haven't figured out a way to make that work that doesn't lead to my stopping at WaWa every morning and resorting to pizza once a week for dinner.
One obvious solution is to increase the focus on vegan dishes in our meal choices, without resorting to the (cost prohibitive and often calorie laden) lure of most meat substitutes. I came across a recipe for white bean and garlic stew over at Fat Free Vegan Kitchen and decided that (with a few tweaks) it would serve our needs very nicely.
15 servings
Ingredients:
2 heads garlic, roasted
2 tsp olive oil
1 large Spanish onion, chopped (about 2 cups)
1/4-1/2 cup water (or even broth)
4 15 oz. cans cannellini beans, drained and rinsed
1lb. carrots, peeled and chopped
3 14-ounce can diced tomatoes
7 cups water
1 vegan vegetable bouillon cube
1 Tbsp dried parsley
1 tsp thyme
1 cup frozen cut leaf spinach
salt & pepper to taste
Directions:
Roast the garlic (in your oven or in in a garlic roaster
). When cool enough to handle, separate each clove from the papery skin, slice lengthwise (keeping pieces large) and set aside.
Add oil to a soup pot and once warmed, add the onion and sauté until golden. Add carrots and sauté for another minute or two. Add water a bit at a time, as needed, to prevent sticking and burning.
Add the beans, tomatoes, garlic and remaining water. Cover the pot and simmer for about 30 minutes. Add parsely, thyme, salt and pepper and cook for an additional 30 minutes. Taste, and adjust as necessary (adding water if too thick, adding additional seasoning, etc).
You can serve it at this point, or allow it to simmer for another hour or two.  The longer it cooks the thicker it will become.
Serving:
Dish out into bowls and serve, as is.
You may serve this over brown rice or with some warm crusty bread to make it more filling.
Try it with our homemade crackers.
A sprinkle of Parmesan cheese on top is especially yummy.
Nutritional Information:

Calories 174.9
Total Fat 1.1 g
Saturated Fat 0.3 g
Polyunsaturated Fat 0.2 g
Monounsaturated Fat 0.5 g
Cholesterol 0.0 mg
Total Carbohydrate 32.9 g
Dietary Fiber 7.2 g
Sugars 4.7 g
Protein 9.2 g

estimate via Recipe calculator via Sparkpeople.com
Enjoy!
Jia
Looking for other recipes like this?
Try our recipes for Beef-Lentil Soup or Cream of Tomato Soup.
Or, look for books such as:
Saved By Soup: More Than 100 Delicious Low-Fat Soups To Eat And Enjoy Every Day
Enlightened Soups: More Than 135 Light, Healthy, Delicious and Beautiful Soups in 60 Minutes or Less
A Beautiful Bowl of Soup: The Best Vegetarian Recipes
This recipe was shared at Finer Things Friday at The Finer Things In Life, Fat Camp Friday at Mangoes and Chutney, Foodie Friday at Designs By Gollum, Fight Back Friday at Food Renegade, and Friday Favorites at Simply Sweet Home. It was also shared at Monday Mania at The Healthy Home Economist, Mouthwatering Monday at A Southern Fairy Tale, Homemaker Monday at 11th Heaven's Homemaking Haven, and Real Food Wednesday at Kelly The Kitchen Kop