Vegetarian Taco Filling
Posted by Jia
Feb 25
Reya has asked for a friend to sleep over tomorrow.
Complication #1. I have not done any once-a-week cooking this weekend. I have decided to simplify our meals for the next couple of weeks and as a result have very little in the house ready to go. Additionally, I have decided to try and eat out of the pantry this week so that I can avoid the expense of hitting the supermarket.
Complication #2. AnimeGirl is vegetarian. The one meal I have on hand in the fridge is pasta with lentil sauce, but we just ate that tonight and (while it is a truly yummy dish) I don't want to have it again tomorrow.
What to do? What to do?
A quick glance at what I have on hand indicates that my best best is vegetarian tacos. I have the taco shells. I have everything I need to make a filling. I have cheese and salsa. All I need to do is run out (or send Accolan out) for some sour cream and maybe some vegetables to use as toppings (cucumbers and tomatoes to dice).
This is a great anytime meal. Myself, I am more apt to serve it in the warmer months of the year. In the summer it is so easy to make it in advance, then just heat in the microwave before serving for a hot meal that won't heat up your whole house. Plus produce prices and quality are at their peak and so getting a variety of toppings, mix-ins if you will, is easiest.
Additionally, the leftovers do double duty as a great snack. A bed of tortilla chips, a bit of this taco filling, some cheese. Tossed in the broiler until everything is hot and bubbly and you have a wonderful plate of vegetarian nachos!!
20 servings
Ingredients:
3 onions, chopped (about 4 cups)
7 cloves garlic, minced
4 tbsp olive oil
2 cups lentils
4 cups water
1 28 oz. can crushed tomatoes
4 T chili powder
2 tsp cilantro
1 tsp tumeric
1 tsp parsley
1/4 tsp cayenne
1/4 tsp cinnamon
1/4 tsp cumin
2 cups TVP granules
2 cups water
3 tsp dark brown sugar
Salt and black pepper to taste
Directions:
Saute onions in oil until soft and translucent. Add garlic and cook for another minute or two, but do not allow to burn.
Add lentils and toss with oil and onions to coat. Add 4 cups of water and cook for about 30 minutes until the lentils begin to soften.
Add canned tomatoes, seasonings, TVP and additional water and cook for about 30 minutes more.
Remove from heat and stir in brown sugar, salt, and pepper until even distributed.
Serving:
Serve in taco shells and top with shredded carrots, diced cucumbers, shredded cheese, salsa, olives, sour cream, guacamole, whatever else you like.
You can also roll a spoonful up in a tortilla and enhance with the same ingredients top them with some sauce and cheese and bake until bubbly.
You can put a couple of spoonfuls in a bowl, top with some cheese and sour cream and scoop it up with tortilla chips.
You can see where this is going, right?
This is one of those meals that tastes too good to be as healthy as it is. Really! I promise you. Give it a try.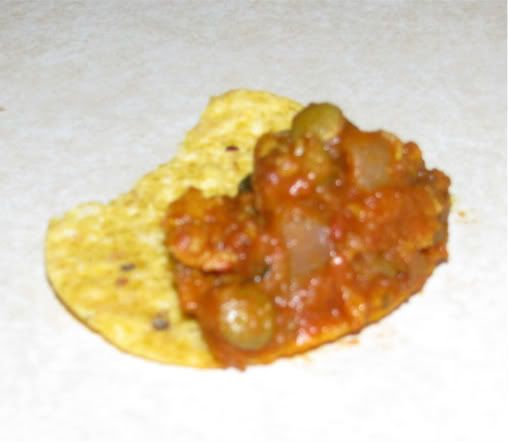 Variations:
You can also adjust the seasonings and use this as an alternative to seasoned ground beef in recipes such as lasagna or stuffed peppers. Roll it up in pizza dough with some sauce and mozzarella. The possibilities are pretty limitless.
Nutritional Information:

Calories 90.7
Total Fat 0.9 g
Saturated Fat 0.1 g
Polyunsaturated Fat 0.1 g
Monounsaturated Fat 0.5 g
Cholesterol 0.0 mg
Total Carbohydrate 13.6 g
Dietary Fiber 4.5 g
Sugars 3.5 g
Protein 7.7 g

estimate via Recipe calculator via Sparkpeople.com
Enjoy!
Jia
This recipe was shared at Slightly Indulgent Tuesday at Simply Sugar And Gluten Free, Tuesday Night Supper Club at Fudge Ripple, Tuesdays At The Table at All Of The Small Stuff, Tasty Tuesdays at 33 Shades Of Green, Tasty Tuesday at Balancing Beauty And Bedlam, and at Dr. Laura's Tasty Tuesday
How Is This a Frugal Family Meal?
The biggest expense for this dish are the pre-made taco shells. Keep costs down by stocking up when you can get the best price (by pairing a sale and a coupon ideally) or by using plain tortillas as a wrap for the filling, and your favorite mix-ins.
Want more recipes like this?
Vegi-Mex: Vegetarian Mexican Recipes (Cookbooks and Restaurant Guides)
The Complete Italian Vegetarian Cookbook: 350 Essential Recipes for Inspired Everyday Eating
Image by nthatf01