Stop Food Shopping
Posted by Jia
Dec 3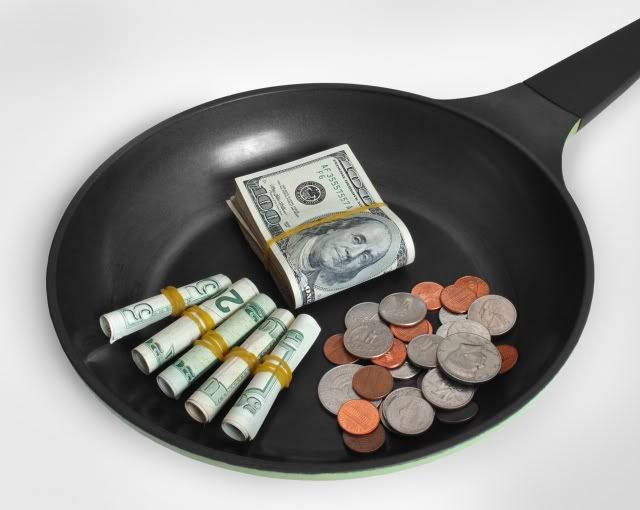 Whether your wallet is feeling the pinch of a lost paycheck, the holiday season, or an unexpected bill when the time to trim your spending an easy place to start is your grocery budget.
"But wait?", I hear you asking, "I can't spend less at the supermarket! How am I going to feed my family?"
Sometimes it means trying new more frugal fare or simply thinking outside the box.
Kosheri is a great choice.  I have yet to serve it to anyone who doesn't not only but like it, but fall in love with it.  Skip the meat and try our bean-based sloppy joes.  Adding a loaf of bread to the table can turn a side dish, like garbanzo bean salad, into a meal.  Serving breakfast for dinner, scrambled eggs and toast, can be both an inexpensive meal and a nice change of pace.
Sometimes it takes prior planning.
Making larger batches of food over the course of a few (or several) weeks and freezing some so you can skip a week at your local grocery store.  For example on Thanksgiving I made 2 trays each of mashed potatoes, candied yams, and my apple-sausage dressing.  After the holiday I was able to freeze 3 half-size aluminum trays.  In a few weeks I can pick up a couple of rotisserie chickens (I can buy them for $4 each at my local Top Tomato – as cheap as making them myself) and have ourselves a mini feast for less than $10 out of pocket.
Don't have the time, energy, or freezer space to cook full meals ahead?  Start making a point of picking up a little bit extra during your usual shopping trips.  A can of beans, a can of crushed tomatoes, and some broth can make a simple soup.  A pound of pasta and a bag of frozen peas (with a little butter and seasonings) can be a quick and filling meal.
Sometimes, all it takes is digging through what you already have on hand and coming up with new dishes on the fly.
My friend Judy's recipe for Stracciatella can be whipped up for pennies, in mere minutes.  And its easy to customize if need be.  Don't have broth?  I bet you have bouillon in the house.  Worried it won't be filling enough for your brood?  Serve it over pasta, or add some drained frozen spinach.
My friend Kris' recipe, Pedro's Special Casserole, might not be as frugal as an Italian egg-drop soup, but between your pantry and freezer you can probably go make this right now if you wanted too (remembering that you can easily substitute practically any fried salty chip for the Doritos).
Our Beef-Lentil soup came about from digging through my pantry and freezer, tossing what I had in a pot and calling it dinner.
By combining these strategies, I've been able to skip the bulk of my usual food shopping for the past two weeks!
Do you have any tricks for eating out of what you have on hand, rather than going food shopping, when money is tight?
Blessings
Jia